Replacement MPU for BALLY and STERN pinball games!
Updated prices as of June 14, 2013

Now introducing the ULTIMATE DRIVER BOARD for Stern and Bally pinball games!
We are the Canadian distributor for ALLTEK's: ULTIMATE MPU and ULTIMATE DRIVER- this will replace the computer and driver boards for any of the following Bally/Stern games: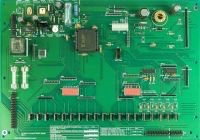 BALLY GAMES:
Baby Pac (MPU only), Black Jack, Black Pyramid, BMX, Centaur, Centaur II, Cybernaut, Dolly Parton, Eight Ball, Eight Ball Deluxe, Eight Ball Deluxe Ltd, Elektra, Embryon, Evil Knievel, Fathom, Fireball II, Fireball Classic, Flash Gordon, Freedom, Frontier, Future Spa, Gold Ball, Grand Slam, Granny and the Gators, Harlem Globe Trotters, Hotdoggin, Kiss, Kings of Steel, Lost World, Mata Hari, Medusa, Mr. & Ms Pacman, Mystic, Night Rider, Nitro Ground Shaker, Paragon, Playboy, Power Play, Rapid Fire, Rolling Stone, Silverball Mania, Six Million Dollar Man, Skate Ball, Space Invaders, Speakeasy 2 & 4 Player, Spectrum, Spy Hunter, Star Trek, Strikes and Spares, Super Sonic, Vector, Viking, Voltan, X's and O's, Xenon


STERN GAMES
Ali, Big Game, Catacomb, Cheetah, Cosmic Princess, Dracula, Dragonfist, Flight 2000, Freefall, Galaxy, Hot Hand, Iron Maiden, Lazer Lord, Lectronamo, Lightning, Magic, Memory Lane, Meteor, Nine Ball, Nugent, Orbitor 1, Pinball, Quicksilver, Seawitch, Split Second, Star Gazer, Stars, Stingray, Trident, Viper, Wild Fyre


ADDITIONAL GAMES
Black Sheep Squadron, New Fathom, New Vector,
Sexy Girl, Big Ball Bowling, Big Bat Baseball, Black Beauty, Shuffle Genesis, Puck Bowler

The Ultimate MPU (no longer needs batteries!) is only $199.95US plus shipping (and tax(es) in Canada).

Shopping cart is now set up and running - so you can order boards etc here...

Ultimate Options available:

Ultimate Test Card $55.95US.

Ultimate MPU/Test Card Combo $245.95US. (NO BATTERIES REQUIRED)

Buy the Ultimate MPU and DRIVER board together for $349.95US

UTLIMATE DRIVER BOARD $149.95US

Modern switching power supplies, high efficiency, Less Heat, No more big heat sinks. Keeps the backbox cooler. Upgrade your game with modern technology!
Full adjustable 190Vdc @ 50 watts like the original design for games with extra displays.
Short circuit protection on the high and low voltage power supplies. Forget about blowing and replacing every part in the old high voltage power supply because of one bad display.
+5vdc @ 5amp low voltage power supply. Extra power for popular LED style displays.
LED status indictors on all voltages.
Using the latest MOSFET devices for solenoid drivers.
Lower on resistance MOSFET drivers means more responsive coils – better, faster pinball action.
All Solenoid MOSFET drivers have dual function LED indictors that indicate proper operation as well as indicating a fault condition such as a shorted coil. Makes game repairs fast and easy.
Fused flippers for added flipper circuit protection. No more blown board traces from a miss wired coil.
MPU fault protection circuit. Protects solenoid drivers and coils from shorts. Caused by a faulted MPU which locks on a solenoid.
Heartbeat status LED.
No obsolete components used.
Designed by Engineers who are pinball experts.